In a world that's moving faster and faster, where consumers demand efficient fulfillment and supply chains now stretch to every corner of the globe, using radio frequency identification (RFID) in supply chains is one solution that organizations can use to evolve and meet these challenges. With multiple routes to market, increased complexity in international trade agreements, and the odd, unexpected disruption from a pandemic or blockage at the Suez Canal, it's no wonder supply chain managers are struggling to sleep at night.
The usual problems, like pressure on profit margins, dealing with the competition and last-mile efficiencies, almost seem like the good old days. While implementing RFID in your supply chain management processes isn't a solution that will automatically solve every problem, it does provide organizations with powers that seem magical. RFID is changing how supply chain companies respond to major challenges in a world that has become fraught with delays, quality issues and inventory shrink.
Quick Takeaways:
RFID facilitates product and process integration that can help speed up supply chains spanning the entire globe.
With RFID, you can gain visibility into your daily operations and find new ways to cut costs.
RFID and digital transformation are key enablers for organizations that want to maintain customer satisfaction and achieve new efficiencies in order to keep up with evolving consumer demand.
Four Areas That Can Benefit from Deploying RFID in Supply Chain Management
Changing consumer expectations are placing traditional supply chain processes under immense stress. Considerations like product quality, immediate availability and sustainable sourcing now regularly feature in a consumer's decision-making process. Pricing is no longer a main factor in differentiating yourself from competitors. Most modern consumers now have concerns about where products come from, whether the materials used were sustainably sourced and what the environmental impact was during the entire process.
Succeeding in this new environment requires supply chain managers to use every ounce of ingenuity and innovation just to remain competitive. RFID technology can help supply chain operations with not only improved efficiency, but also certifying the providence of goods and tracking the entire process from source to destination. Discussed below are four ways in which RFID in supply chain management is helping organizations deal with these emerging challenges.
1. Product and Process Integration
Once you have to deal with global supply chains, integrating your entire process with your products becomes essential to keep ahead of demand. Integration depends on sharing information efficiently while communicating change as it happens to whoever is involved. An integrated supply chain will have gated steps for each portion of the process, and an automated way to capture products as they travel through those gates.
RFID makes it easier to capture and share information during the process, keeping track of products as they progress through different steps of your supply channels. It helps you collaborate with suppliers, keep track of your shipping operations and build a dependable supply chain that runs smoothly from anywhere in the world. By integrating your entire supply chain process and the individual products involved using RFID, you'll know about any disruptions early and can work to mitigate issues before they become a crisis.
2. Building Visibility into Supply Chain Operations
Cutting down on operational costs remains one of the biggest challenges in managing modern supply chains. It's not easy to keep down the overheads from your day-to-day operations while dealing with additional pressure created by increased consumer demand.
RFID in supply chains can help on both fronts:
You can reduce operational costs in your process by decreasing labor requirements using RFID technology, while gaining greater visibility into your operations.
RFID can help drive revenues by generating real-time, accurate and actionable performance data that helps to determine additional cost-saving measures and identify where further efficiencies may exist.
RFID systems can integrate and automate large portions of your warehousing, shipping and distribution processes.
Deploying RFID in areas where you need to refocus and improve your performance during daily operations is the best way to build a resilient, sustainable and cost-effective supply chain.
3. Knit Together the Entire Supply Chain Operation
Product quality, environmental due diligence and other elements that influence consumer confidence require you to go beyond simple sourcing and delivery tasks. You'll need insights into your manufacturers' processes, their supply chains and even the labor practices used at their facilities. RFID can ensure you have control over your purchasing and supply partners. You'll understand how they run their business and avoid any ethical dilemmas down the line.
You can monitor the sourcing of raw materials, ensure that your suppliers comply with relevant legislation and determine where something went wrong when encountering issues. The additional considerations for modern consumers add a new risk to your supply chain operations. Implementing RFID in your supply chains ensures that you will understand and mitigate the risks effectively. RFID provides you with complete transparency into the entire lifecycle of your operations.
4. Enabling Digital Transformation for the Entire Supply Chain
Using technology to establish effective control over all your processes, from purchasing to distribution, is the best way to cut costs and ensure smooth workflows. RFID systems take the guesswork out of your daily operations, as you'll always know where exactly your shipments are during the process. You can automate many of your stock-placement and replenishment tasks, while also setting up alerts that keep your staff informed about any critical tasks. With the latest RFID chips, you can monitor product quality and identify damaged goods before they end up in a customer's hands. RFID allows you to connect your back-office processes, product quality management and supply chain tracking to build a robust, effective and reliable network.
According to analysts, RFID in supply chains can:
Reduce the costs associated with labor in your operations
Provide real-time asset tracking and monitor any returned products through the repair process
Automate inventory processes without requiring line-of-sight product capturing
Improve the accuracy of all your shipment, atch, and product tracking
RFID applications are growing in almost every industry around the world, with transport, logistics, retail and industrial sectors investing heavily in the latest technologies.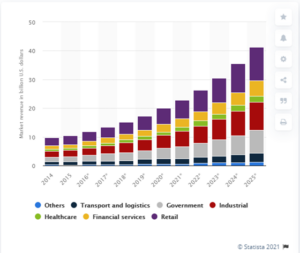 Growth of the RFID industry by sector from 2014 to 2025 (source)
Learn Everything About Using RFID in Your Supply Chains at RFID Journal LIVE!
For supply chain managers, understanding the latest capabilities that RFID has to offer can be the game-changer that helps you deal with the newly added pressure on your daily operations. At this year's RFID Journal LIVE! event, you can discover new applications, implementations and methods that RIFD is unlocking in supply chain management.
To discuss the latest RFID in supply chain applications and learn more about the technology's capabilities, sign up for RFID Journal LIVE! now.