RFID Journal LIVE! Attendee Registration Options
Registration will open soon.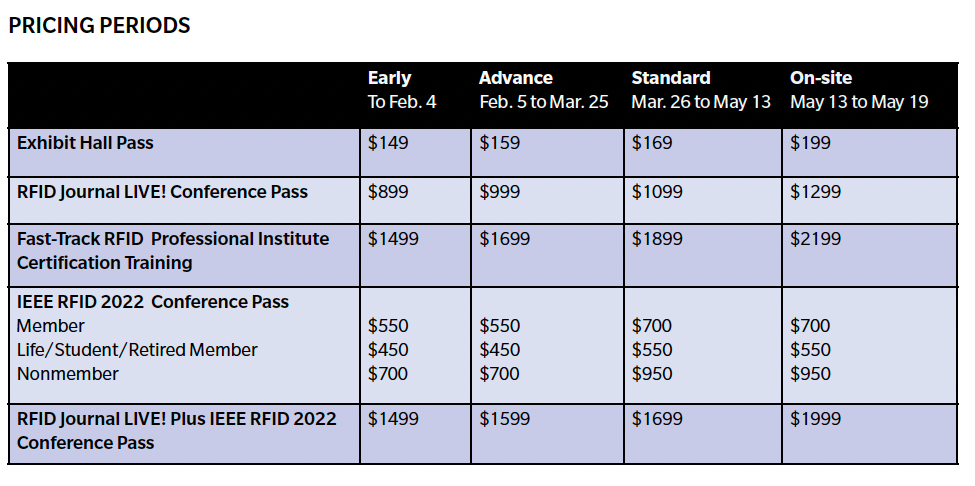 Group Rates:

 

Groups of 3-5 people will receive a 10% discount, and 6-10 people will receive 15%. Please note that all groups must book under the same session to be eligible. Contact Yolanda Mays,
 

Yolanda.Mays@emeraldx.com, for more information.
Registration Information
Emerald reserves the right to use photographs/video taken of you at the show for marketing purposes.

ATTENTION: Exhibitors and Sponsors at RFID Journal LIVE! may utilize badge scanning in order to follow up with you after the show. Please be aware that by permitting an exhibitor/sponsor to scan your badge, your contact information including address, email, phone & fax will be shared with the exhibitor/sponsor, and RFID Journal LIVE! will no longer be in control of how your information is used. Questions or concerns? Email privacy@emeraldx.com.

Emerald reserves the right to accept, reject or prohibit registration for or attendance at its events at any time for any reason.

Attendee expressly assumes, and releases Emerald and any affiliates from, all risks, claims, damages, losses, costs and expenses, whether or not reasonably foreseeable, associated with, resulting from or arising in connection with Attendee's participation or presence at the Event, including, without limitation, all risks of harm, damage, illness (including virus or illness from any communicable disease) or injury (including death) to or related to Attendee and his or her property.

Attendee expressly agrees to fully comply with appropriate COVID-19 health and safety measures and protocols for attendance at the event, including the requirement to wear face masks at all times and maintain appropriate social distance.  If needed, Emerald will have limited face masks available for those attendees who do not bring their own masks to the event.  Emerald reserves the right to remove any attendee from the event for failure to adhere to the required COVID-19 health and safety measures and protocols for attendance at the event.

By agreeing to the Terms and Conditions, you confirm that you have reviewed the Emerald Privacy Policy.
Questions
Contact registration customer service at +(864) 208-8689 or send e-mail to LiveReg@rfidjournal.com.
Terms & Conditions
Full payment of your registration fee is required prior to attending the conference. All prices are in U.S. dollars. Promotions & discount offers are not combinable. Conference passes may not be combined.
Cancellations and Substitutions
All cancellations must be received in writing by email no later than April 22, 2022. Upon receipt, a credit will be issued toward a future event produced by RFID Journal, less a 25% administrative fee. This credit may be used for one year, from the first day of the 2022 event, at any subsequent RFID Journal event. No credits will be issued after April 22, 2022.
RFID Journal will not be held responsible for cancellations or delays in programming due to acts of God, war, government disorder, curtailment of transportation facilities or any other emergency making it inadvisable, illegal or impossible to hold the conference and exhibition.
Substitutions will be accepted only with the written permission of the original registrant and with the approval of RFID Journal. All substitutions must be received in writing by email.